Commercial construction & developments
LuxBuild deliver projects across a wide range of sectors, with vast knowledge of the Australian Acts, Regulations and Australian Standards, we provide a supreme quality product to the highest of industry standard.
Typical projects include:
Office buildings

Showrooms

Warehouses

Factories

Warehouse and Factory Complex's

Retail outlets
LuxBuild offers a 'concept to completion' turnkey service, this ensures complete peace of mind and satisfaction. Every step of the project is managed and carried out by the same highly experienced team in collaboration with our extensive network of contacts. Experienced architects create aesthetically pleasing contemporary designs, combining functionality and style enabling us to maximise the value of the property.
Experienced architects create aesthetically pleasing contemporary designs, combining functionality and style enabling us to maximise the value of the property.
Documentation is organised and lodged with relevant authorities.
The site is prepared (demolition of an existing structure, excavation of the block, installation of drainage, roadways, etc.).
The structure is constructed.
Final features are then added (landscaping, pathways, driveways).
Our level of care doesn't end there. To ensure that each site continues to operate efficiently our Commercial Maintenance team provides servicing of the building and related equipment at regular intervals. This is a service that we also provide to existing commercial sites/complexes as well as to real estate agents for commercial properties not constructed by LuxBuild.
We take pride in our workmanship and eye for detail, which is why we have so many satisfied clients.
aluminium cladding
LuxBuild offers a range of top-quality aluminium cladding products that can be fitted seamlessly to just about any building facade. Our aluminium external facade systems are durable and of the highest quality.
Aluminium cladding is hugely versatile, available in a range of colours and finishes, it can be used to create an almost endless array of beautiful designs. LuxBuild's qualified and experienced tradespeople will work with you from concept and design to installation and completion to create a functional and visually striking cladding solution.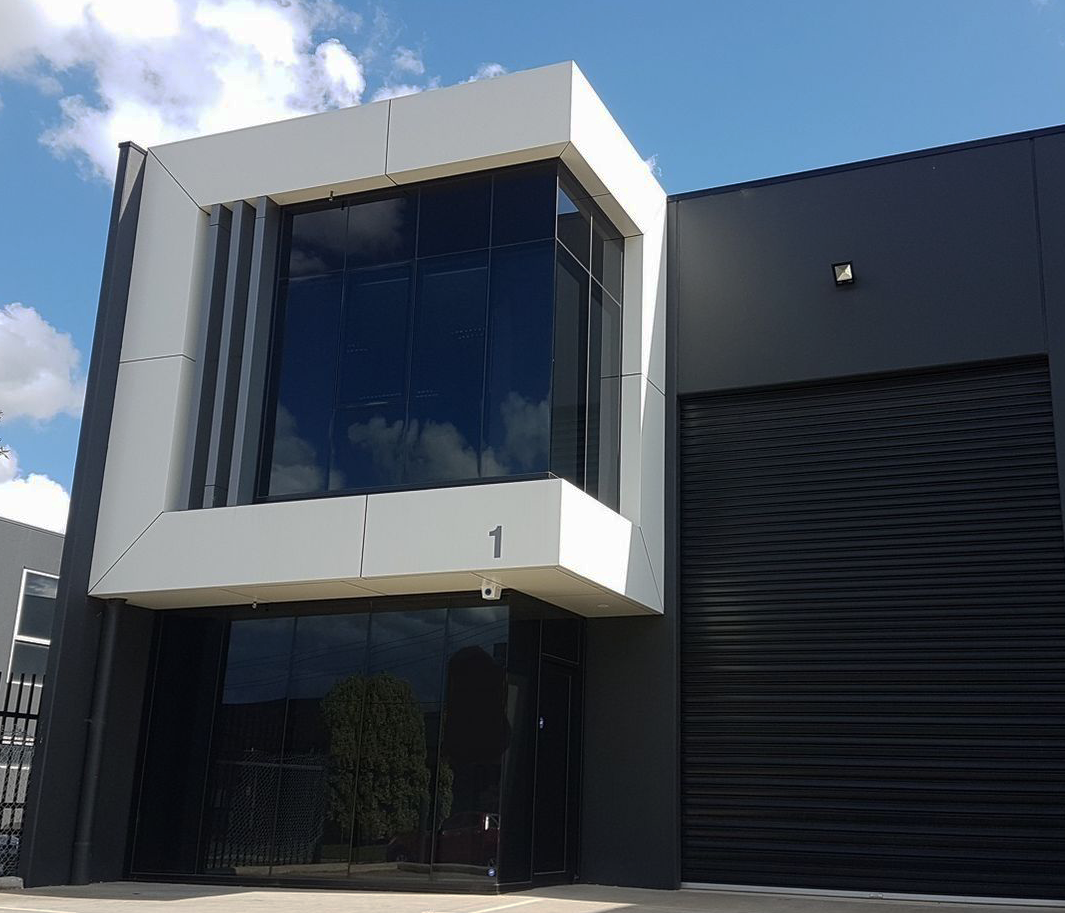 Internal fit-outs
Office fit outs are just one of LuxBuild's speciality areas. The construction of internal walls, partitions and the coordination of other trades is all part of the service. LuxBuild works with our clients to design and construct office fit outs if, leaving no stone unturned right down to waste paper bins, chairs and white goods.
LuxBuild can organise the manufacture and installation of workstations, boardroom tables and cabinets, kitchen cabinets and assist with creative design ideas for reception areas utilising a vast range of products, signage and feature lighting. This allows our clients to get on with their business while we synchronise the finer details.
commercial epoxy flooring
LuxBuild's commercial flooring division specialise in epoxy surfaces to go over concrete in areas such as warehouses, retail outlets, showrooms, pick-pack lines, food manufacturing plants, bulky good stores and loading docks.
Long-lasting epoxy coatings and toppings are stronger than concrete, resilient to heavy loads, prevent spilt material seeping through into the concrete, they reduce noise and the amount of dust and are more comfortable to walk on. Epoxy flooring is slip resistant and improves the safety and WHS compliance of the work environment.
pre-settlement services
LuxBuild has an unique service for clients who have purchased a warehouse/factory or office a building in a complex development with a partnering development company. Before settlement and handover/occupancy of your purchase, LuxBuild is able to organise and complete any pre-settlement services. Included in these services are: Office extensions, Office fit-outs, Epoxy Floor Sealing and Service Connections (Power, Gas or Water).
Upon completion of the development project and purchases are settled, this service ensures the new owners can move in to a fully functional building immediately, no unforeseen business downtime or stress.
*Standard commercial procedures do not permit contractors to commence any additional work until the major project is complete and handover has taken place. Meaning construction and service connections would be finished approx. 3-6 months after you have paid for your new building.
LuxBuild's Pre-Settlement Service saves your business downtime, money and provides complete peace of mind.